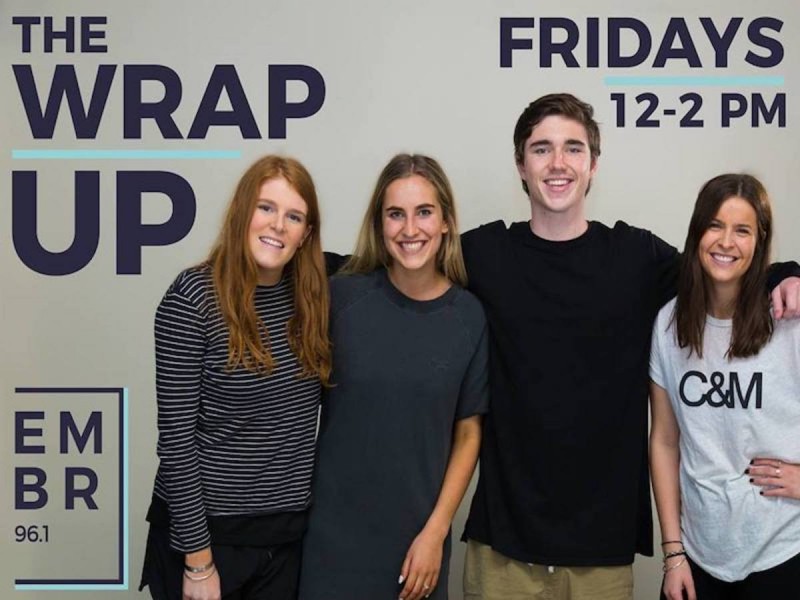 The Wrap Up, wrapping up your weekly current affairs.
Wrapping up your week, this show is hosted by Malindi Wilson, Tom Peterson, Maddy Lloyd and Ella Proude.
Tune in on Fridays 12-2pm on EMBR 96.1FM, or catch it here as a podcast. The Wrap Up is produced by Rebecca Brebner.
Show One
For the first show we had Malindi and Tom in studio, with reporters Ella and Maddy reporting out in the field.
The team was joined by Councillor Deon Swiggs to discuss our CDB and the challenges of the Dirty 30.
Maddy's made moves with Jolt Dance, a company breaking down barriers of dancing with disability.
Plus, Ella brought us the beginners guide to the Garden City's newest and highly anticipated arrival- Uber eats.
And we considered the consequences of Otago University students organising flat initiations in our very own thought of the week.
Show Three
This week on the show, we had our hosts Ella and Maddy in studio and Tom and Malindi reporting from the field.
We were joined by Newshub Political Reporter, Lloyd Burr who ran us through the long awaited build up of Winston Peters announcing his decision.
Its New Zealand Conservation Week and Tom's talking birds. Saving Canterbury's Kakariki, an event raising the profile and awareness of our orange fronted parakeet.
Maddy looks into Canterbury's long rich rugby history. While it might seem like an even playing field for men and women, dig under the surface and its not really the case.
And having relationship problems? There's a new solution! Many kiwi couples are forking out hundreds to catch cheating partners. We talked to private investigator and lie detector Dr. Barry Newman on how it all works.
All that and more! It's The Wrap Up.
Show Four
The Wrap Up had you covered for the huge week of news, plenty occurring both locally and with the new Government.
Our hosts Malindi and Ella were in studio with reporters Maddy and Tom out in the field.
It's a win for the Green Party and we looked at the legalising cannabis referendum.
Maddy made a grand return to the Terrain! We crossed live to get amongst the thick of the action of the Petanque Oceania champs.
2018…A free year of study? New Prime Minister Jacinda Ardern claims she can deliver this to students. Our reporter Ella looks into what it could mean.
We've found community gem for our good sort of the week! The wonder woman behind the Riccarton Community Garden.
And Malindi covers the controversial topic of abortion in our thought of the week.
Catch you next Friday.
Show Five
And we're back, The Wrap Up team on Embr96.1
This week on the show, we had Tom and Malindi on our hosting panel, with Maddy and Ella out in the field putting in the hard yards.
Are unkempt student flats turning the Ilam area into a slum? We spoke with Ilam and Upper Riccarton's associations chair Phil McGoldrick about the issue.
There's a huge nationwide shortage in the midwife profession and Canterbury midwife representative, Violet Clapham told us why.
Maddy dressed her hospo best on Monday and checked out the Chevrons, 2017 awards recognising everyone doing an epic job in Christchurch's hospitality scene.
And Tom looked into Labour's stance on New Zealand's Immigration policy.
Happy Friday!
Show Six
It's the wrap up!
This week the team brought you a wide range of current afffairs.
We looked into men's sexual abuse, one in six boys will be sexually abused before their 16th birthday. We had an avid campaigner join us in studio who told us about a new way to approach the issue.
And the generation who love to spend up large.... Our milennials. Are they really as bad with money as some think?
Later, guy fawkes is always an exciting time of year but for the Timaloa family there was nothing fun about this years display.
Finally we posed the question if more of our national women's sports teams should get paid? Thats in Maddy's thought of the week.
Tune in next week for our final show as we cover most highly anticipated social events on Canterbury's calendar- Cup and Show week!
Its The Wrap Up's final wrap up.
We had you covered for one of the most anticipated weeks on Canterburys social calendar.... Cup & Show week.
The Addington Races and A&P show.
The Wrap Up team have loved being on your airways, bringing the news that matters to you. So hey, thanks for having us.