Oral health linked to poverty
Thousands of Kiwi kids get preventable dental work done each year, a report by the Child Poverty Action Group says.
Four-year-old Sophie, who had all her teeth removed as a result of tooth decay, is just one of the thousands of Kiwi kids needing preventable dental work done each year, a report by the Child Poverty Action Group has found.
Poor oral health is one of the most common chronic diseases in children and is a leading cause of hospital admissions with most cases being linked to children in poverty.
In the 2015/2016 year, almost 30-thousand children under the age of 12, had to have one or more teeth removed. 6600 of these children ended up in hospital. Operations like Sophie's cost the taxpayer around $4000. "The cost of this in public healthcare and to taxpayers is huge," co-author Prathibha Sural says.
The report, "Too soon for the tooth fairy: the implications of child poverty for oral health", highlights the issues of poor oral health amongst New Zealand children.
New Zealand Dental Association spokesperson & co-author of the report, Dr Rob Beaglehole, says poor oral health is a "disease of poverty"."Poorer members of society have significantly worse oral health than the wealthy." Bad oral health can have long-term effects on children in their future adult lives.
Dr Beaglehole says, "persistent orthodontic problems, as well as social issues for children can occur as a result. They may require expensive orthodontic work on adult teeth, and their confidence suffers".
On behalf of the NZDA, Dr Beaglehole also adds, education isn't just about educating families "health is politics and politics is health", so we should be educating politicians to create change.
However, he thinks that all people should still be educated about oral health. Some of the problems he sees, as a dentist, could be prevented with early intervention. "Education so that families are more aware of proper nutrition and care for their children's teeth from before they erupt is imperative".
University of Otago's Dr Jonathan Broadbent, says child poverty has a detrimental impact on dental healthcare and affects people's oral health into adulthood.
The University's Multidisciplinary Health and Development Study, which tracks the lives of more than 1000 babies born in Dunedin between 1972 and 1973, shows more dental decay occurs in children from poorer families.
By the age of 38, the average number of teeth lost was six-times greater among those who had been born into disadvantaged families than those born into well-off families.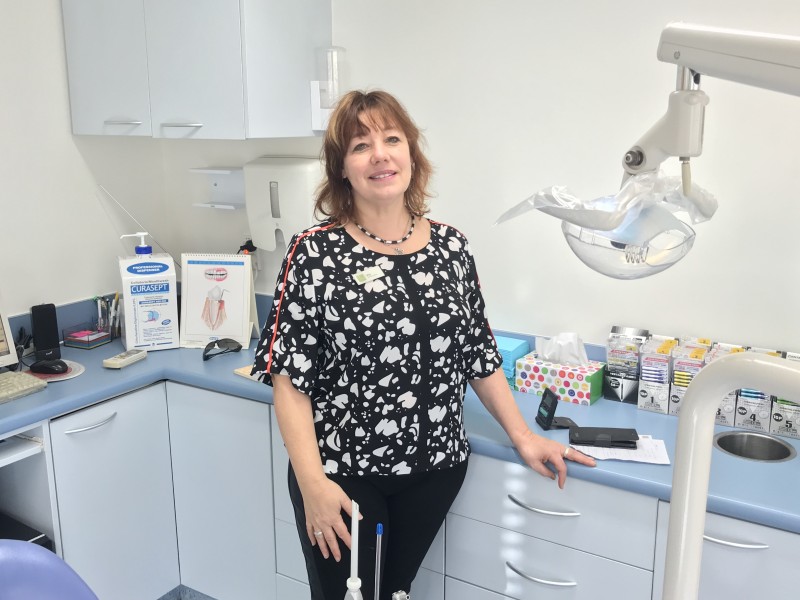 Dental surgeon, Dr Viv Levy, says that although dental care is free up to the age of 18, around 10% of young people enrolled at her surgeries, don't turn up for appointments leaving treatment until it's too late when they're in severe pain and have missed the window for free dental care. This leaves vulnerable people, who cannot afford to pay for dental work, with expensive dentist bills.
CPAG health spokesperson Professor Toni Ashton says despite oral health being a stated priority of governments over the past two decades, dental problems among New Zealand children, especially in low-income families are still too high. "Mere lip service has been paid to this problem for far too long. It is time for action."
What the CPAG report and the Dental Association would like to see:
-The report suggests that because of the clear association between poverty and poor oral health, especially in Maori and Pasifika communities, family incomes should be significantly boosted, because reducing child poverty is fundamental in improving oral health the CPAG says.
- Dr Beaglehole, on behalf of the NZDA, says sugar is a major factor in poor oral health. Reducing the sugar content in children's diets by having water only policies in schools, restricting the amount of sugar being sold to kids and introducing a sugary drink tax are the most powerful tools in the fight against poor oral health.
The Ministry of Health says large body water fluoridation could see:
Tooth decay in children and adolescents on average drop by 40%

A 48% reduction in hospital admissions of 4-year-olds for dental treatments

A 21% reduction in dental decay for 18 to 44-year-olds

A 30% reduction in dental decay fo those 45-years and over.
Dental surgeon, Dr Viv Levy, says fluoride works by attaching to the tooth's enamel, making the structure of the tooth harder to dissolve in acids like those in sugary drinks.
The Christchurch City Council says, in a statement, they currently have no plans to fluoridate Christchurch's water supply.
Oral Health Promoter, for the Canterbury District Health Board, Belinda Smith, says they see around 89,000 children each year in their mobile and community clinics. With most cases of tooth decay being preventable by brushing twice a day, a low sugar diet and seeing a dentist once a year.
Smith also believes, water fluoridation is an effective, affordable and safe option that benefits everyone regardless of age, ethnicity or socio-economic status and is something that the CDHB Community Dental Service would like to see.
The Health (Fluoridation of Drinking Water) Amendment Bill, currently in its second reading, at Parliament, is proposing to change who makes the decision to fluoridate water supplies. The proposed legislative change would allow district health boards (DHBs) to direct local authorities to fluoridate drinking water supplies in their areas.
The Ministry of Health says the decision to fluoridate should be in the hands of DHBs, because they have a duty to improve, promote and protect the health of people. Giving DHBs the power to decide if water supplies should be fluoridated aligns with the DHBs' responsibilities to protect public health.
Ministry of Health, National Clinical Director, Riana Clarke, says although there have been significant improvements in child oral health over recent years, inequalities still remain. 2/3 of Pacifica and Maori children have dental cavities. Compared with the rest of New Zealand children, where less than half the population of kids have dental decay. She says, "reducing disparities is a key challenge and a high priority for oral health services".
The interview with Dr Beaglehole was conducted on the 26th of June 2018- the views and opinions he expressed are those of the New Zealand Dental Association.